Certification und Quality Assurance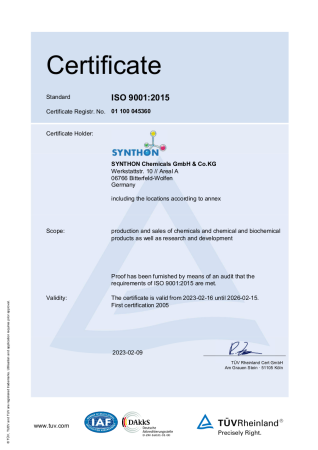 SYNTHON is certified according to quality management standard ISO 9001 by TÜV Rheinland. The quality management system implemented in this way ensures a consistent supply of high-quality products and services to the respective customers.
The internal processes, which begin with customer inquiries and culminate in the delivery of the respective products, are based on the optimum use of resources and a strong customer-oriented approach. This is reflected in customer satisfaction and the number of existing customers. Optimised processes and our employees' expertise enable us to reduce production costs. SYNTHON regards itself as a link in the "supply chain" and aims at securing the long-term supply of fine chemicals and speciality chemicals for its customers. We can take over warehousing, transportation and even logistics on behalf of the customer. The merchandise management system that we use completely maps the materials management, starting from purchasing, sales and warehouse management up to production planning and formulation-based production. Our internal processes are secured by continuous batch and inventory tracking, as well as the integration of quality assurance and quality control.
TÜV-Zertifikat-EN-2020-23 (*.PDF-Datei, 245 KB)